HHM Health accepts the following insurance:
Amerigroup, Humana, Baylor Scott and White, Aetna-Medicaid-Better Health, Aetna PCP (must be an HHM Health Provider), Bright Health, Parkland, Molina, Superior, Texas Health Women, United Health Care, Blue Cross Blue Shield, Well Med, Medicare, Medicaid, Cigna, Tri Care -Humana
Now Accepting New Patients!
Same Day Appointments Available
Our Pediatric Health Center offers a full range of services including:
Annual check-ups
Sick visits
Immunizations
Treatment of chronic childhood diseases
Diet and nutritional services
Pediatric Health Center
5750 Pineland Dr. #260, Dallas, Texas 75231
Woodhill Pediatrics Association
8335 Walnut Hill Lane Suite #220 Dallas, TX 75231
Greenville Pediatric Clinic
8515 Greenville Ave. Dallas, TX 75243
Oak Cliff Clinic at Trinity Basin Preparatory Jefferson Campus
919 E. Jefferson Blvd. Dallas, TX 75203
Redbird Youth & Family Clinic
3803 Boulder Drive Dallas, TX 75233
Open Tuesdays and Thursdays
Kiosco Youth & Family Clinic
4001 Walnut Hill Lane, Suite Y 100, Dallas, TX 75229
Open Mondays and Wednesdays
Shanthi Rajasekaran, M.D.
Director of Pediatrics
Sylvia Martinez, M.D.
Specialties: Pediatrics
Larry Gray, M.D.
Specialties: Pediatrics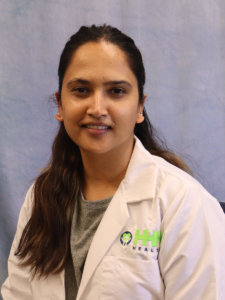 Khushi Bhattarai, MD
Specialties: Pediatrics
Kathleen Goettel, NP
Pediatrics
Katie Boggs, NP
Pediatrics
Sherin Lea, D.O.
Specialties: Family Medicine, Women's Health, Pediatrics
Roseline Onwuelezi, NP
Family Practice
Cashoyna Tillis, APRN, FNP-C
Pediatrics
Sarah Valliere, D.O.
Specialties: Women's Health, Family Medicine, Pediatrics
ATTENTION – PLEASE READ
Due to the increasing costs of delivering healthcare services, effective June 2, 2023, laboratory services at HHM Health will no longer be included as part of the medical service visit.
Patients without insurance or enrolled in HHM Health's Sliding Fee program will now be required to pay for laboratory services prior to any specimen or blood collection.
Patients with public and private insurance coverage, you will receive a bill for services directly from Labcorp. For any questions related to your Labcorp bill please call 800-845-6167.